Color and Finish Style Options
This is the next stop in your guitar journey. Make the choice whether or not you choose us to continue to build your guitar. 
Breeze Guitars is designed so you can order a guitar kit only or have your guitar completely finished and set-up by us. Or any step in-between. It's all about choices and options! You can choose this step, and the next which is Assembly and Set-up, or you can have your guitar shipped to you at any point during the process.
You choose options within each module and then add them to the cart.
You Ordered Your Model from the Raw Guitar Builder...
You just made the choices as to the type of guitar you wanted in raw wood form, and whether or not you'd like the neck glued to the body. At this point, you could choose to have the guitar shipped to you either as a kit in a box, a kit in case, or a glued neck body in case.
Read more about all the possibilities and guidelines on the How to Order page.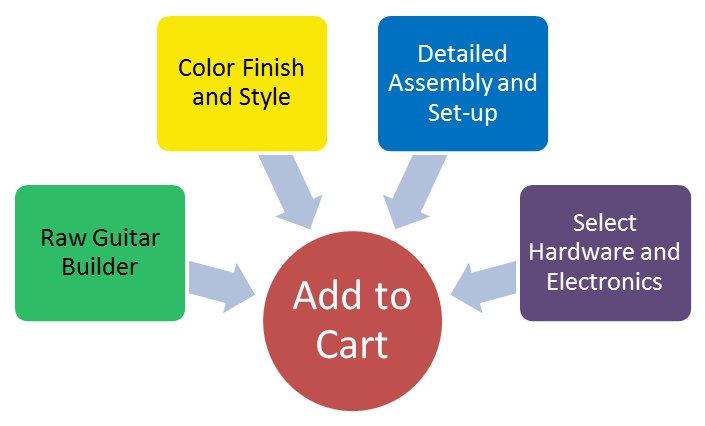 The Next Step
The Color and Finish Style Options is the first of two steps. The step after this is to make the choice of taking us up on the Detail Assembly and Set-up module. You might decide that you'd like to do that yourself, but just know that we have you covered if you want us to do it. You can take us up on the Color and Finish and skip the Detail Assembly, or you can ask for both services. You can skip the Color and Finish and ask for Detail Assembly. It's up to how you want your guitar to be built.
Find out what the separate Detail Assembly service looks like, even if you intend to do the final assembly and set-up, on the How to Order page.
Now Tell us How You Want Your Guitar Finished
This is the time to have us add finish and color style options to your build before it ships to you. Below are the color and finish style options available. Remember, if you don't see what you need here, contact me at the About / Contact Me Page and I'll do my best to get it done for you.
Within each of these color style selections, you'll see the finish options available for your masterpiece as well.
If you have questions, please send a note via the About / Contact Me Page.
                Solid Colors                       Stains                            Bursts