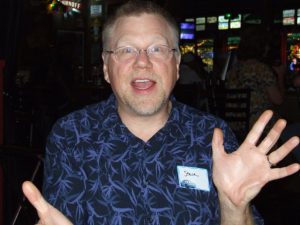 My name is Steve Cass, and I'm proud to be able to provide a way for you and for me to FINALLY build a very sweet, custom, high quality, electric guitar that is affordable.  Not only can you have it sent to you so YOU can finish the build, you can have it sent to you completely finished by experts and to your specifications as well.  This is almost unheard of in this industry, and I'm very proud to be a part of this revolution.
I am a self-taught guitar player.  When I was 12 years old, we went to grandma and grandpa's house for Thanksgiving dinner.  I was upstairs in one of the bedrooms and discovered this guitar in the corner.  It was love at first sight.  After rushing downstairs to ask grandma if it was ok for me to play it, I rushed just as hard back upstairs and played the thing until dinner time.
When dinner was over, I asked grandma if it was ok if I went back upstairs to play it.  She of course said yes.
Mom yelled up to me after several hours, telling me it was time to go home.  I reluctantly put my new friend back in the stand in the corner of the room and went downstairs to tell grandma 'thanks' for letting me play it, and if I could play it the next time we came over.  She said 'just take it home with you'.
Wow!!  Just wow!  And I never looked back.  I just can't begin to tell you how many hours I spent sitting at the edge of my bed playing that magical toy.  One of the very first things I did was to buy a book of chords (Mel Bay, I believe).  I just began learning chord formations and switching back and forth and feeling the rhythm until it all began to make sense.
Ultimately, I became absolutely hooked on playing, whether it was acoustic or electric.  I actually developed a style of playing that works for both.  
It took me a few years, but I became passionate about guitar set-ups and mechanics.  I built an electric guitar from a kit and became hooked and decided I wanted to try my hand at designing one.  Breeze 17 Storm was born.
I'm a worship leader, lead guitarist, author, guitar designer, internet marketer, electronic technician, husband and avid reader.  I definitely stay busy, and I've always liked it that way.  But, the way I stay busy is by also building in plenty of down time.
Thanks very much for stopping by.   It's my extreme pleasure and honor that you've considered purchasing a Breeze Guitar, and got the best of both worlds:  an amazing guitar while giving a child a chance at life.
Send a message if you have any questions about the guitar building process at Breeze Guitars, or if you just want to drop me a note to say hi.
We hope to have guitars for sale by January 2018.  Please start making plans now!  We're currently developing all the pages of the site so you can begin to make your decisions.  Thanks for your patience!