WHY CHOOSE BREEZE GUITARS?
Breeze Guitars enables you to have the best custom electric guitar for your money while at the same making it possible that a child in Africa will live past the age of 5!
See the highlights of exactly what you can do in order to get the guitar of your dreams!
COLOR and FINISH
A part of the Full Breeze Package, 16 different colors or bursts are available to order every day. Of course, we can paint or stain it a different color if you'd like, and you could choose this as a separate service. Just ask. All color packages come with high quality buffing and polishing.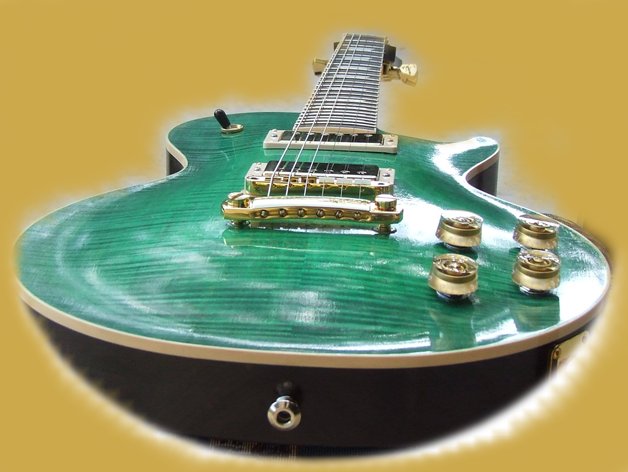 DETAILED ASSEMBLY & SET-UP
A part of the Full Breeze Package, we offer the assembly and set-up services of the experts. An experienced set of hands takes your particular guitar from raw kit through finishing to assure the highest possible custom shop experience. Available even if YOU are finishing the guitar.
FULL BREEZE PACKAGE
If you would like us to design the build and make all of the decisions about hardware and electronics, perform the Detailed Assembly & Setup, Paint and Finish and ship the guitar in a hard shell case, read more. Give us the body style you'd like and send us the details of your dream guitar.
IF YOU COULD SEE THE LOOK ON YOUR FACE RIGHT NOW...
...you would see a face grinning from ear-to-ear.  How can you make this happen for you or for a friend?  Join many who have done this and have made the guitar of their dreams for much less than they ever thought possible.
PERFECT GEOMETRY
SUPERIOR TONEWOODS
All of our tonewoods are much higher in quality than you will ever find in a store bought guitar.
Length in the business counts for trustworthiness and quality.  Give us a chance to make your guitar your way.
WEIGHT OF ANDERSON CNC MACHINE
COLLECTIVE YEARS EXPERIENCE MAKING GUITARS
The Future of Breeze Guitars is Bright.  With Your Help, so is that of a Thirsty Child.
Spartan ArchUnder Construction, so connecting info on this site is going to be a little rough....